Car Interior Cleaning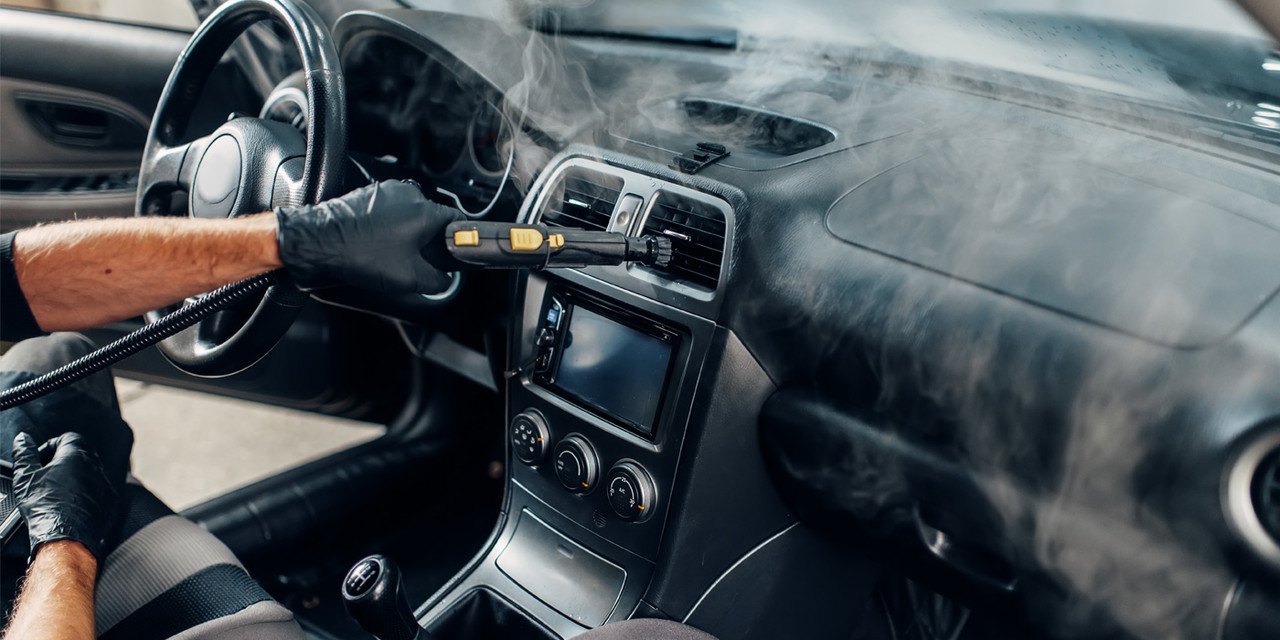 Dust
As you begin to clean your car interior, start by removing the big items like toys, sports equipment and any other clutter. This will give you a better idea of what is actually in your car and how much more work it might take to get it completely clean, if necessary. You can also throw away any unused or dirty items that have been in the car for some time.
Next, vacuum the floor mats, front and back seats, the trunk and any other areas that you can access easily. This is an important step because it will help remove any dirt that has settled between the carpet fibers, as well as hair and other small debris. If your vehicle has cloth seats, you may want to use a fabric protectant at this point to keep the fabric looking and feeling new.
You should also dust the dash and any other plastic surfaces in your vehicle. For this, you can either use a dry microfiber cloth or a wipe that is specifically designed to clean plastic automotive surfaces. It is important to get in all the nooks and crannies of your dashboard, such as between the air vents, to prevent dirt from getting trapped there for long periods of time.
Once you've done the dusting, it is a good idea to wipe down your windows using a glass cleaner and a microfiber towel. This will ensure that your windshield and mirrors are clear of any streaks or spots and that the view out of the window is as clear as possible. It's a good idea to make a habit of doing this on a regular basis, so that your car always has a clear view and is less likely to collect dirt or grime over time.
Once you've done all the cleaning and wiped down your interior surfaces, you can vacuum again and wipe them down with a damp cloth to get rid of any remaining dust or debris. This will give your car a fresh look and help it to retain its value when you're ready to sell or trade it in. If you have leather seats, it is a good idea to use a leather conditioner as part of this process, as it will help keep your seats looking and smelling great for years to come.
Disinfect
Start with the removal of large debris like gas-card receipts, gum wrappers and toys. Next, vacuum or brush to remove dirt and loose debris from carpets, mats, seat cushions and other cloth materials. If your car has leather seats or other soft fabric, use a cleaning and conditioning wipe to gently clean the surfaces. Once the dust and large debris is removed, it's time to disinfect.
First, wash or sanitize your hands. This will reduce the likelihood that you will transfer any germs to your vehicle or other people. This is an important step, especially for those who frequently ride share or have children in the car.
It's also a good idea to wear rubber gloves, if available. This will protect you from the harsh chemicals used in cleaners and will help you avoid transferring germs to other areas of your car or to your passengers.
Choose a disinfectant that is safe for your type of car interior. Bleach, hydrogen peroxide and other bleach based products can damage plastics and vinyl. Look for a disinfectant that is designed for automotive interiors, or a general all-surface cleaner that is gentle on delicate materials.
Some disinfectants are available in wipes that are specific to the use in your vehicle, such as for the glove box or air vents. Others, such as Clorox Disinfecting Wipes, are recommended for high touch areas, including the steering wheel, air bag controls, sound system control and center console cup holders. You can also look for technology or eyeglass cleaning wipes that are gentle enough to be used on digital touchscreens. Follow the instructions on the label for specific uses.
Once you have disinfected the high-touch areas, you can move on to other surfaces in your car. Make sure that you dry surfaces with a clean microfiber towel to avoid scratching sensitive materials.
It's also a good idea to regularly disinfect the cup holders and other tight spaces that tend to collect hair, dust and other debris. These items are also a likely source of bacteria and germs and can easily be transferred to other parts of the car or to passengers.
Vacuum
Once you've gathered all the loose debris and emptied your car's ashtray, it's time for vacuuming. Use the various attachments that came with your vacuum cleaner to clean out all the tight spaces and nooks in your car that are natural trash collectors, like the crevices around the air vents or behind and between the seats. Be sure to do this thoroughly, so no dust or dirt is left behind to collect new dirt and odors later.
If your car has leather seats or upholstery, be sure to use a leather conditioner after you vacuum it. This will help protect and preserve the leather, keeping it looking and feeling like new for years to come.
It's also a good idea to open the doors of your vehicle when you're vacuuming, so that you can pull the vacuum straight through without having to circle the whole interior, making it more efficient and thorough. You can also take this opportunity to make sure that all the windows and mirrors are clean, so that you have a clear view out the windshield and can see what's coming up ahead.
The next step in basic car interior cleaning is to vacuum the carpets and floor mats. Use the carpet tool or a soft bristle add-on to the vacuum cleaner, and make sure to get into all the corners, and along the edges of the car as well. This will lift most of the dirt that settles on the floor, but some may be deeply embedded in the mats and carpeting.
Before you vacuum, shake your floor mats outside to loosen up any dirt or grit that may have collected on them. This helps the mats last longer and prevents scrubbing them, which could damage them.
Finally, it's a good idea to wipe down the dashboard and any other plastic surfaces in your vehicle with a damp cloth or cleaning wipes. This will help keep them looking shiny and new, and it can also be helpful in removing sticky residue and breaking down stuck-on grime, especially in the cup holders and between the seat cushions, where food, drink, and dead skin cells tend to accumulate.
Rinse
Car interiors are prone to dust and grime, especially those hard-to-reach places that most people don't think about cleaning or don't realize need to be cleaned. Basic interior cleaning removes surface-level dirt and grime, refreshes upholstery, controls odors and leaves your vehicle looking great. It's also an excellent maintenance step to perform in between more thorough detailing sessions.
A good place to start is by removing the floor mats and vacuuming them. Next, empty and wipe down the console storage bins, ashtray and door jambs. A damp microfiber cloth works best here, as it'll leave a lint-free finish. If your car smells stale, sprinkle the carpet and cloth seats with dry baking soda and let it sit overnight before vacuuming. You can also control odors by placing a scented sachet in the front seat or trunk.
It's always a good idea to check underneath the seats for loose junk, including gas-card receipts and those pesky parking tickets that tend to collect. Sliding the seats forward can reveal a whole host of other things you may not have noticed before, such as toys, food wrappers and the like. It's also a great time to vacuum or shake out your floor mats, as well as the back sides of the sun visors.
You should also sanitize your seatbelts at this point. They can get quite grubby, especially if you're a frequent smoker. If you use a sanitizer that contains bleach, be sure to scrub and rinse thoroughly afterward to avoid fading the fabric or plastic.
Then, you're ready to clean the hard surfaces. A little bit of Simple Green goes a long way here, as you can spray it on and scrub with a bristled brush before wiping it off. This applies to the dash, steering wheel and consoles, vents, cup holders and those hard-to-reach areas like the running boards and side paneling.
Don't forget to clean the dashboard buttons and switch levers, and all those nooks and crannies around the windshield. After your interior is clean, you can apply a vinyl protectant to leather and vinyl seats.
If you have time, cleaning your own car can be therapeutic. But If you're tired and don't have enough time to clean your dirty car, with Kolby's Auto Spa's Basic Interior Cleaning mobile detailing service, you can drive in a car that feels brand new. Visit website immediately to have your vehicle's interior cleaned and revitalized to the finest standards.
Dust As you begin to clean your car interior, start by removing the big items like toys, sports equipment and any other clutter. This will give you a better idea of what is actually in your car and how much more work it might take to get it completely clean, if necessary. You can also…
Recent Comments
No comments to show.